Helping you decide your feelings on Penny Drop
Penny Drop Story
by Chris Combs • February 04, 2021
---
It's Christmas Eve and I'm sitting at my bosses house with a glass of scotch in my hand. Surrounded by a few folks at a table when my boss pulls out the new game he'd be working on at the shop. He tells us all how to play and we decide to ante up a quarter to make it a little more fun.


We began with rolling the dice and dropping pennies in the box. After a while, the pennies we each had were beginning to run low and someone had to win. I had two pennies left and thought for certain I'd be winning this round of quarters. My boss went before me with an empty board, one by one filling it up. Looking at me, he grinned and passed his turn. If I didn't roll a six I was gonna have a lot more pennies and would probably lose.



Having to roll, I closed my eyes and let fate work her magic. She rolled a two, I lost the game, and that night we were introduced to the Penny Drop. It was a deceptively fun game with a good amount of luck and strategy in equal parts. Everyone at the table had a great time and wanted a one to take home at the end of night.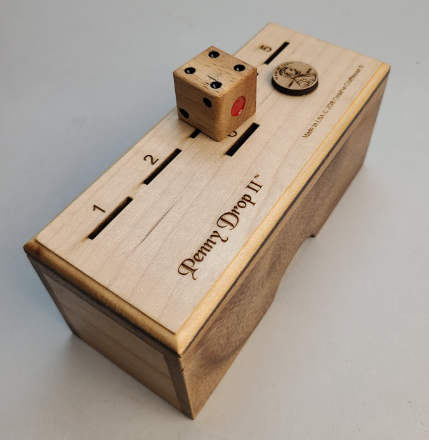 Never did we imagine that game would become so popular. Currently we have five options in the forms of Penny Drop Premium, Penny Drop II, Penny Drop Economy Medium, Penny Drop Economy Small and the all new Nickel Drop Game. Even so many years later, we still play this game during Holiday work parties. As for the boss, he still wins most of those games, but I'm catching up.


If you were confused about whether or not you should buy a penny drop, or if you were just wondering what this whole penny drop craze was about, now you know.
---
overall rating:
my rating:
log in to rate
box dice drop economy family fun game gift holiday penny premium slide wood work